Products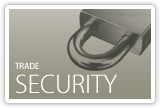 TRADE SECURITY
A total solution for your compliance needs
With more than 200.000 security filings per moth Trade Tech is the industry leader in Ocean Cargo security. Specializing in EDI & self-serve web security filing.
Asia Cargo Security (Japan AFR)
United States Cargo Security (AMS, ISF)
Canada Cargo Security (ACI)
Europe Cargo Security (EUNS)
Latin and South America Cargo Security (Mexico AMS)

Asia Cargo Security (Japan AFR)
---
Any container cargo moving into Japan (or transshipped through Japan) must have a Japan security filing (AFR) completed 24 hours prior to the vessel sailing from origin to Japan.
Critical Dates:
• Start Date: March 1, 2013
• Penalty start date: March 10th, 2013
Critical Issues:
• Reporter ID & NVO code
• Trans-shipments
• Cargo Classification & New Reference Codes
Trade Tech's Easy-to-Use web interface: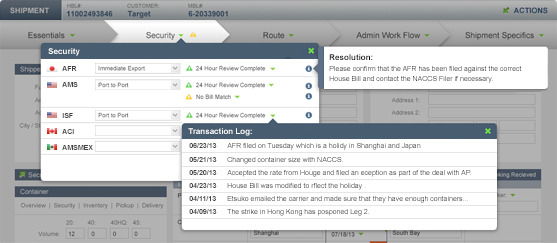 Please contact a Trade Tech office near you today for Japan AFR:
AFR EDI customer sign-up deadline: October 1st, 2014
AFR web customer sign-up deadline: November 1st, 2014
• Japan (sachikotakeo@tradetech.net, +81 90 3914 3773)
• USA (gmincin@tradetech.net, +1.425.837.9000)
• Europe (elisabeth@tradetech.net, +33.472.73.24.92)
• Shanghai – (simon.xu@tradetech.net, +86.21.6415.7268)
• Hong Kong – (danny.chow@tradetech.net, +852.2543.5093)
• Taipei – (jackson.chen@tradetech.net +886.2.2627.7272 #24)
United States Cargo Security (AMS, ISF)
---
"Trade Tech has worked with our organization to develop a global AMS/ISF system that is beyond reproach. Their customer service skills and willingness to get it done right are incredible." Laurie Arnold, Vice President at Atlanta International Forwarders & Brokers Association, Atlanta, USA
Trade Tech's Syrinx™ AMS service is an integrated web or EDI customs-filing cloud solution for NVOCC's and VOCC's. Trade Tech's service insures customers comply with United States Customs and Border Protection Ocean AMS regulations. Trade Tech's AMS security filing system is authorized and approved as an Ocean AMS Service Center by United States Customs & Border Protection (CPB).
"10+2" or ISF requires 10 data elements from importers or their agents 24 hours prior to vessel departure and 5 data elements from the filer of the Bill of Lading.
Trade Tech offer three AMS/ISF services:
Trade Tech Syrinx cloud solution allows for NVOCC's to self-service AMS and ISF filings through an easy-to-use web site.

Trade Tech provides a Trade Doc service for NVOCC's choosing to outsource filing work through Trade Tech.

Trade Tech provides EDI integration, EDI service includes:
Fully comply with all ISF (10) & ISF (5) validations
Integrated filing of data to CBP via your existing systems
Secure, reliable, and monitored connection to CBP
EDI, XML, Flat File
e-mail and/or EDI to proactively resolve problem filings


---
---
Latin and South America Cargo Security (Mexico AMS)
---
"Trade Tech's customers service is amazing. They can always render assistance in some minutes. Ever called Jackson Chen/Taiwan at 10PM for an unclear AMS filing result, and I did get his reply in some minutes." Albert Chen, Director at Eirta Logistics, Taiwan
Be fully compliant with any country's Customs 24 hour rules.
Protect your hard-earned customer data by directly filing with Customs.
Enjoy secure access 24/7 over the Web with encrypted shipment data.
Manage exceptions with e-mail notification.
Show arrival cargo electronically and receive release notifications.
Receive status notifications from Customs.
Designate additional participants to receive status notifications.
Request a Demo

»
Tweet